2016 års Operation Dagsverke går till UNICEFs utbildningsprogram i Mongoliet. Den del av programmet som Opreation Dagsverke stödjer har som mål att fler barn med funktionsnedsättningar ska kunna gå i skolan.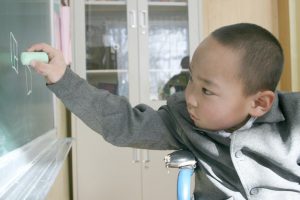 Operation Dagsverke har arrangerats av svenska elever sedan 1960-talet och är en insamlings- och informationskampanj. Under insamlingen arbetar elever under en dag, de gör med andra ord ett dagsverke. Pengarna de tjänar på arbetet går till skol- och utbildningsprojekt i andra länder, genom UNICEF Sverige.
Under skolans insamlingsdag, som i år var tisdagen den 24 maj, arbetade man hemma eller på ett företag, man kanske gjorde insamlingar på stan, uppträdde eller drev egna projekt. Only the sky was the limit! Det var helt frivilligt att delta. De elever som inte deltog var i skolan och arbetade med uppgifter kopplade till temat.
Denna kampanj är till för att elever, och deras lärare och föräldrar, ska få större kunskap om barns rättigheter – både ute i världen och här hemma. Man får lära om hur barns rätt till utbildning är en väg ut ur fattigdom och utsatthet och hur kunskap öppnar dörren till ett självständigt liv med god hälsa, inkomst och möjlighet att påverka. Man samlar in pengar till UNICEFs verksamhet i ett utbildningsprogram i världen. Denna gång i Mongoliet.
Våra tre klasser på högstadiet deltog och totalt fick eleverna ihop 9 474 kr, vilket är bättre än de tidigare åren.
klass 7   4 374 kr
klass 8    2 858 kr
Klass 9   2 250 kr