Hem » Inlägg märkt 'Class 8'
Etikettarkiv:
Class 8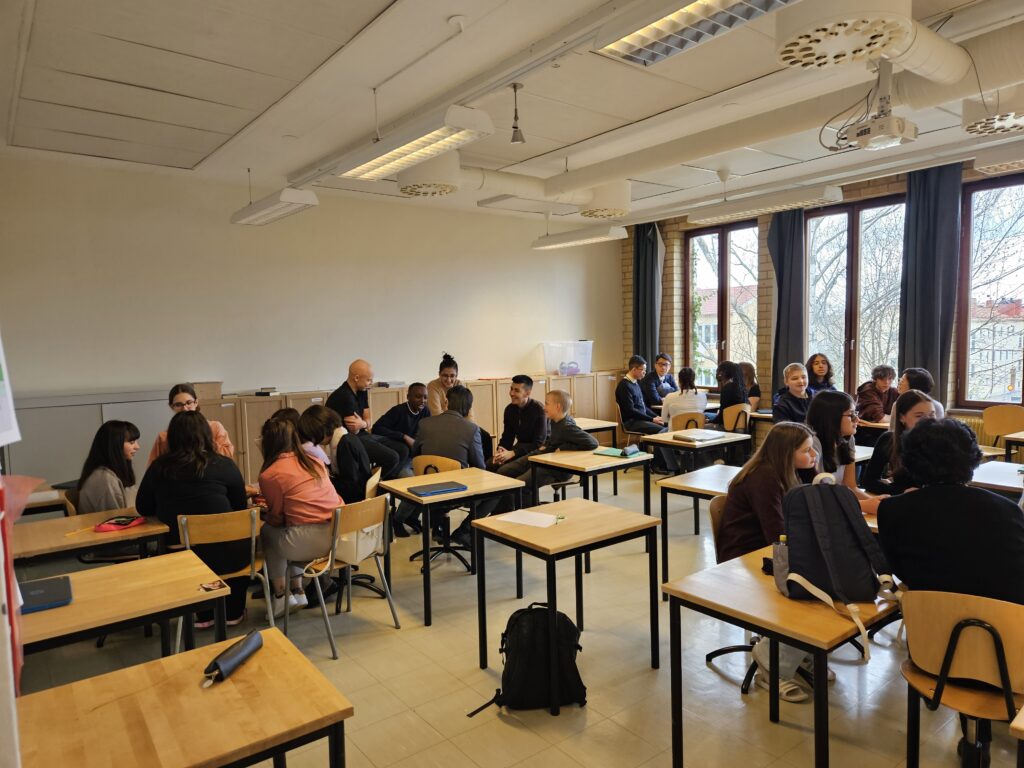 Yesterday, May 4th, guests arrived at our school from Hong Kong. They were principals and teachers from different schools visiting Sweden. After having lunch they took a tour around the school and visited different classes. Class 8 happened to have English at 2 pm so I told our principal that it would be a good opportunity for my students to practice their English IRL. It was a joy to listen to the busy conversations in the classroom and see the students enjoying the moment and the guests being so kind and appreciative towards the students.
Thank you for you taking the time to talk to my students and giving them some new perspectives!
//Miss Kristina Klempt
_____________________________________________________
My impression of the women who talked to us is that they asked very interesting questions. They asked us about how many subjects we have and what languages we learn here. They told us that in Hong Kong they wear uniforms and have clubs organized by the school there. They asked us if we have homework and if we do anything after school. We also received compliments on our English even if we only have 2 English lessons a week. The women were impressed to hear we have so many subjects in school and that we learn such good English from mostly the internet. They wanted to know if we have any assemblies and we were all surprised to know that our country's school systems have a lot of differences. In Hong Kong, they have to learn 2 languages
Cantonese and English) and the third language is optional but here we have to learn 3 languages unless you take Swedish-English.
They appreciated that in Sweden we take maternal language classes to also learn our parents' language and not forget our roots.
The women were very nice and wanted to know more about us, they asked us if we had any favorite subject and what we wanted to be in the future.
It was a very fun experience and I got to learn a lot about people from Hong Kong and school life there since I have never met anyone from Hong Kong.
It was a shame we couldn't talk more but it was a meaningful experience and I have learnt a lot.
//Adriana Barkho
Something that I learned was that Hong Kong is 17 times smaller than Sweden but there are more people living there than here. They are mostly living in high buildings because houses are way too expensive. My group talked with Mrs Stella, who was the principal of one of the best schools there and she was an English teacher before teaching in an all-girls school. She asked many questions and asked us about our school and about our activities after our classes. I told them about my big football interest and what my favorite subjects are. They were very impressed by our English and it seemed like they enjoyed our conversation. Many thoughts flooded my mind so I asked all my questions and I also had the chance to talk about exchange students which is something I am considering doing.
The other person that we talked with was a mathematics teacher, Mr Andrews. He told us that he is originally from England but that he moved to Hong Kong and has lived there for about 10 years now. Mr Andrews said that his first impressions were amazing. All the tall buildings with about sixty floors each and he was living so high up that he could almost see everything that was going on in the city. It was a fantastic experience.
They were both from Catholic schools which felt really good because we could feel a connection with each other and it also was another subject that we had the chance to discuss a little bit. We told them that this was a little school if we compare them to other schools here in Stockholm and because of that almost everyone knows each other and no one is ever alone. They did not tell us much about their schools back home but they said that it is pretty different from here.
They were extremely kind and were open to questions and I also got a chance to practice my English more. I would love to meet them again and I will definitely consider moving to another country when I'm older or maybe just visiting other countries as an exchange student.
/Amelia Skorosz
———————————————————————————————————————————–
We got a nice visit from people from Hong Kong. My classmate and I talked with one very nice man and he asked us how the school in Sweden was and he was very passionate about it. He really wants that other children in the whole world should learn a second language and he thinks that school is really important. He is the principal of Ying Wa College. A really cool thing was that he had my favorite watch, he had a Rolex and me and my classmates googled his net worth.
//Arvid Ikuze
———————————————————————————————————————————
It was really fun to get to know people from a whole other continent and it really was interesting. We talked about an anime called Dragon Ball and it was popular in Hong Kong. I wanted to learn more about them but we didn't have much time which was sad. And they really had to ask some boring questions about school even if they wanted to talk about something else which also was quite negative. And that took some time. Something I got really shocked over was that there were people from other countries than Hong Kong like Egypt for example. I thought it was only Chinese people.
//Charbel Salame
———————————————————————————————————————————-
My impression of the people from Hong Kong was that they were extremely polite and nice. They were open to telling us how they actually had it and actually enjoyed asking about our lives. They were eager to learn about Sweden. They were extremely honest about how it was in Hong Kong although they held back on certain subjects regarding China's political condition.
Overall they seemed to be fun people and we had a good time chatting with each other.
We also learned and thought out a bunch of things. Some of the things they learn were how to count to three in Swedish, and they also taught us how to count to three in Chinese.
//Eddy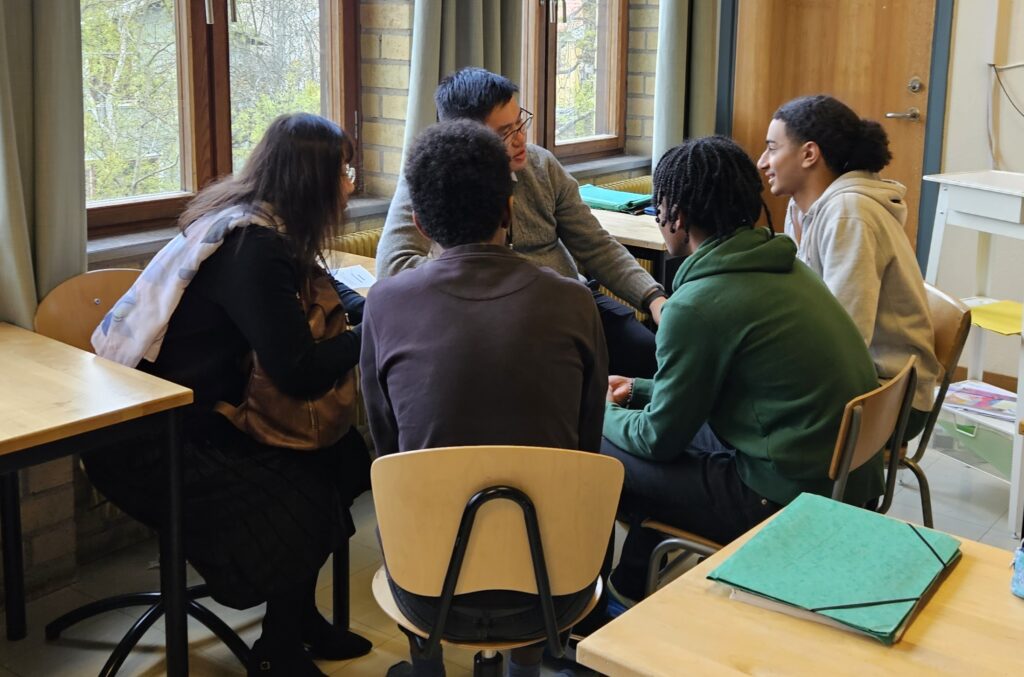 Today we had the pleasure to meet a man named Dion Chen. He really wanted to talk about how good our English was and what are the secrets. he also wanted to know how the education system in Sweden works but as soon we saw his Rolex on his wrist me, Arvid, Jacob, Stavros and Yosef wanted to change the subject from Swedish education system to money. Even at the beginning I was talking with Robel how high value this Dion Chen is.
//Fabian Biernacki
———————————————————————————————————————————–
My conversation with the educated guys from Hong Kong was fantastic. I thought the conversation was going to be stiff and not fun. The conversation just flowed on and the time also. They made me realize that I'm a very social person that has many goals and wishes in life. During the time I talk to them it felt like I had known them for a long time. I think talking to people you don't know in a different language is easier than talking to some of my classmates. He told exciting things about his job and how a normal day can look.
//by Felicia, the girl that's going to be a lawyer, basketball player, celebrity, and economist
———————————————————————————————————————————–
Our group talked to the principal of a catholic school in Hong Kong.
We started the conversation by introducing ourselves, our ethnicity, future plans, and so on. He was very curious about the Swedish school system and how we liked it. He thought that we were very good at English and wanted to know how we learnt the language so well. We explained how a lot of social media is in English and that that is one of the reasons why Swedish people are pretty good at English.
Next, he wanted to know about our seventeen classes. We had a hard time translating the names of the classes into English. He asked if we had good grades and most of us responded by saying "decent". My dad always tells me that school in Sweden is too easy. I guess that the schools in Hong Kong teach students at a much greater pace than here in Sweden and that students have to work much harder. It was very interesting to hear what he had to say about how schools work in Hong Kong. It was, overall, a giving experience.
//Jakob Eklöf
——————————————————————-
My impression of Mrs. Stella and Mr. Andrews from Hong Kong, who I and my group talked with was very kind. It was very interesting that the woman was an English teacher who only teaches girls and the man was a mathematics teacher in a gymnasium. They were talking about how it is in Hong Kong, if they were born there, and the man said that he was born in England but moved to Hong Kong some years ago, but the woman was born in Hong Kong. They also tell us how it looks there, that the city is very small but there are very many people, the buildings are very high because it's a very small city and they don't have too many places to have many buildings, so some of the buildings have 65 floors. They were also asking about how it is to live here in Sweden, if we are born here, what it looks like in this school if everyone knows each other, and how many English classes we have in a week. It was also fun that they asked about what we are interested in and also that they could tell us what they like to do or are interested in.
It was very fun to meet the people and learn more about Hong Kong and also talk in English with people who are already speaking English.
//Julia Kolarczyk
———————————————————————————————————————————–
The woman from Hong Kong that I conversed with seemed to be very happy and excited about either being here in Sweden or just happy to get to meet us. I did not get her name which I admit I should have but I didn't need it. The conversation went well even without any of us in my group saying their name.
The lady seemed intrigued by our Swedish culture and the fact that we have kept buildings standing even since the 14th century. She told us that most of the older buildings in Hong Kong are destroyed, probably because they have to build new houses/skyscrapers everywhere since the population keeps on growing every single day in China. I did not get the opportunity to ask what school they were from or how they do things there which is kind of a bummer.
The lady spoke decent English with us and kept up with the conversation but there were some instances where I think she didn't get 100% of what we were saying, which I get because English can be very hard for foreigners. Just speculation though. Overall she seemed very nice and very joyful as a person, as did the rest of the people that came to visit us. I wish I would have gotten the opportunity to speak to some of the others as well but you get what you get so I won't argue about that.
//This impression was brought to you by : KRISTOFFER Larsson
———————————————————————————————————————————–
I was grouped up with two men, one worked in Hkuga College as the assistant principal of the college. The other man, Simon, was an accountant. It was a really interesting experience, they asked me and my two other classmates what the difference between a public school and our private school is. We explained that public schools are bigger than private schools. They also asked how a normal school day is. They found it very interesting that we learnt biology and chemistry with different people and in different classrooms. Lam Gary, the vice principal took a picture of my school schedule, while I explained to him that every schedule is different and that I for example have Polish as a lesson on my schedule and that other students have different lessons.
The conversations I and my other two classmates Felicia and Tiemar had with Simon, who was the other man, and Gary were not only informative and interesting they were also really fun. All five of us joked around about what we wanted in the future and one of my classmates came to the conclusion that she wanted money in the future.
In the end, we all took a picture together to capture the moment and Lam Gary gave me and my other two classmates his card in case we wanted to contact him in the future or if we ever were to go to Hong Kong and visit the school he works in, Hkuga College. I think me and my classmates agree that this was a fun experience and that we wished the visit would have been a little longer because we still had a load of questions left. 🙂
Thank you Simon and Gary
//Lena Dabrowska
(The girl that liked social science and economics.)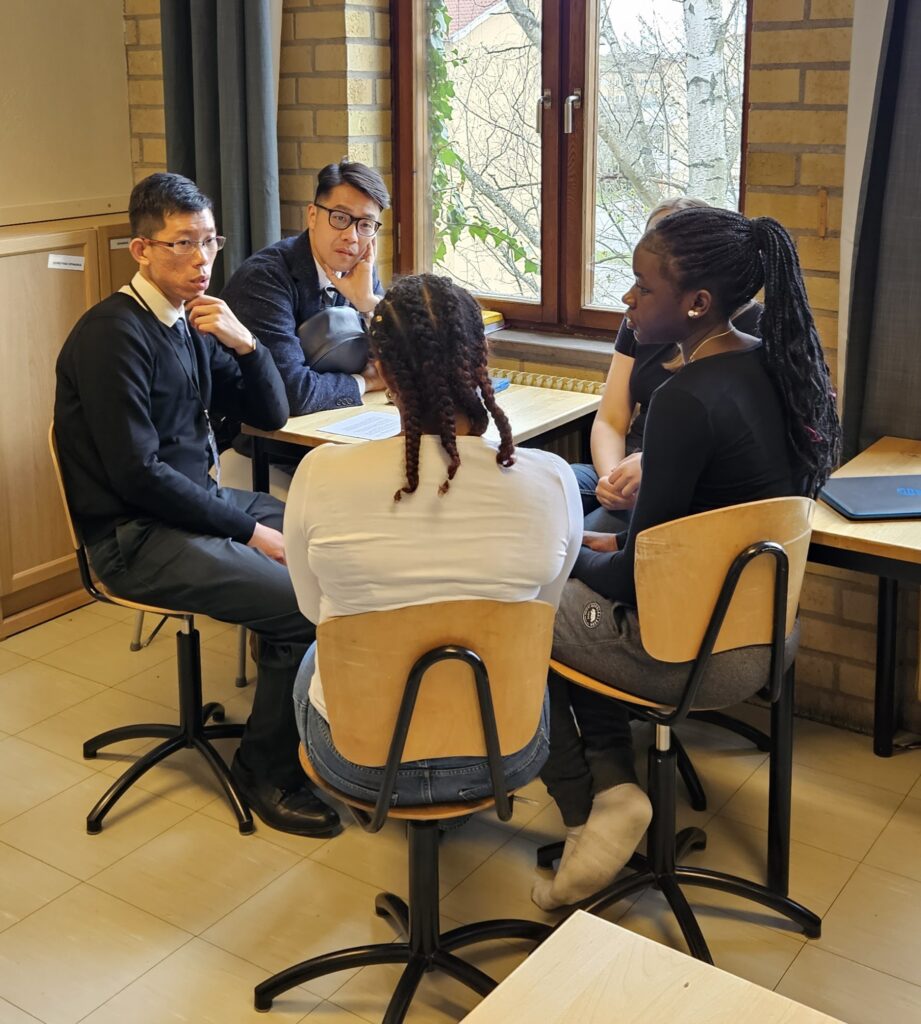 ———————————————————————————————————————————–
One of them was from England and is teaching math. The woman is the principal. We talked about how densely populated Hong Kong is compared to Stockholm and that Hong Kong is 70 times smaller than Stockholm in area, but the population there is 7 times bigger than Sweden.
They asked us where we are from and if we have visited our homeland, about our interests and our thoughts about the school.
He told us about his first impressions of Hong Kong when he came there, he said that it was very big and populated and that the area was small. He told us that the city was almost always bright and noisy.
The woman went to a girl school with only girls and there was also a school for only boys.
We talked about the big difference in the weather in Sweden compared to Hong Kong and that's why some people move abroad. Also that we met some people from a great university in Stockholm that have gone to Hong Kong for one exchange year and they really recommended and loved Hong Kong.
We also talked about how we have a talent show in Sweden and that Julia has been there singing and almost won.
They asked us how we choose the "gymnasium" in Sweden because they are used to that students don't choose, but their parents choose for them, but we here in Sweden get to choose which school we want. And it also depends on what program you want to learn and choose a school with that program.
They were very nice and interesting to talk to, especially to get to know how it works in other countries compared to Sweden.
//By Marina Hermez Chole
——————————————————————————————————————————-
Me, Teo, Kristoffer, and Oscar were sitting together with one of the ladies from Hong Kong. And I actually thought talking to them was very enjoyable and interesting. They were mostly asking us questions about what we usually do in our free time after school, what classes we have, and when we end school. They also were curious about places in Sweden that are very attractive, either historically speaking or places that were just a "must-see".
She said the best part about Sweden was how quiet it was here, how peaceful it was here, and that got me thinking. These people were coming from a crowded town that apparently has 7 million inhabitants, almost the same amount of people that live in entire Sweden. I could never imagine all the constant noise in that city going around 24/7. That kinda gave me a whole new viewpoint on how different other places can truly be.
I'm used to living in a city that's really spaced out, while they're used to living in a city that's extremely crowded.
We also talked about what it was like when the pandemic started. I and the boys explained how there were some restrictions we had to follow. But the woman told us that the entirety of Hong Kong was shut down during the pandemic. Everyone was stuck at home for like three years and there were little to no stores that were opened. She told us if you get covid in Hong Kong they will put you in a quarantine area with other sick people until you become better, which is just wild compared to how the situation was handled here in Sweden.
The last thing we talked about that was quite interesting to me was the fact that children in Hong Kong started learning English together with the English alphabet at the age of 4. That is just crazy to me. A four-year-old is learning an entirely new language and an entirely new alphabet.
I had trouble learning the English language at the age of 9 and they're telling me by then they already know almost everything.
Surprisingly they didn't have ridiculous school days in Hong Kong, like what I've heard. I imagined that they had nine or ten hours of school each day, but in Hong Kong, they have the same school days as us pretty much. That might just be in Hong Kong though, but I don't know.
In conclusion, I really enjoyed the time I spent with people from the other side of the globe. It was another experience, that's for sure! Because usually I only meet my relatives, and they all come from South America. I'm also happy they got a break from all that noise in that city.
//Maximiliano Portocarrero
———————————————————————————————————————————-
It was really good to have these three women from Hong Kong. They were really nice and funny. The first thing they asked us was our names, and what was our favorite thing about this school. They asked us many questions about the school, our favorite subjects, and how our normal week is in school. If it was difficult, how many languages would we learn. I talked a lot and I saw that my English was getting better and more fluent.
They taught us how school was in Hong Kong, and it was very interesting. In their school, they use uniforms and have special shoes to wear in class. They have a club after school and competition with the other classes. They only learn English and Chinese in their school and they were impressed about our English because I say that we had only two lessons a week of English and no more. And they said that our English was very good even if we got only two lessons a week, but I said that we began to learn English in the 3rd grade so it passed like 5 years.
We talked a lot about our school and what was the difference between our school in Sweden and in China. They took notes while we were talking and I was a little bit nervous but after I only spoke fluently and well.
I feel really lovely and sometimes I wanna do that again because I can speak English live with real people who can speak fluent and good English. And because I can practice my English. These three women were very lovely, good and very nice.
They speak very very good English and sometimes I want to learn about them!
Bye !
// Nicole Serfilippi
———————————————————————————————————————————–
I never met a ''real Asian person'' and I believe this was an important experience for me, I saw Asian people on TV but never got the real experience of meeting one. I thought that they will be much more different from us in Sweden but they are not. We talked about our countries and how people are on different continents.
// Oscar Wysocki
———————————————————————————————————————————–
The visitors from Hongkong were so nice and I really enjoyed talking to them. They had a completely different vibe compared to people that lived here in Sweden. We talked about things we had in common and things we did not. I watch series and movies from China and they had watched it at a younger age.
The meeting was great and we taught each other to count 1-10. They asked us about how the school system worked here in Sweden and then we talked about how it is in Hong Kong.
I love the culture they have and it all seems so interesting to me. My group talked to two teachers and they said that the school they worked in was very mixed when it comes to culture and background. They told us that they had students from Egypt, Lebanon, Pakistan, and India.
// Robel Samson Haileselassie
My impression of Mr.Dion Chen is that he is a great principal and he pushes his students to be the best they can be and how well structured they are. He told us about his school which he is the principal in and how their school system works. Mr.Chen told us that he tells his students to visit other schools in other countries and that he thought about letting some of his students come here
to our school to try our school system and see how it works. He was a very interesting person because when I first saw him, I immediately thought that he was a hard worker and a rich person. Later we googled him and found out that he had an estimated net worth of 15.7 million US. Mr.Chen also told us how the community in Hong Kong is, he said that the community is sophisticated.
//Stavros Issa
———————————————————————————————————————————–
We asked a lot about each other's culture and history and everyone was so excited to learn something new.
It was very interesting to learn about life in Hong Kong and compare it to the life I'm used to.
I'm so glad that they could pay us a visit and have a chat with us.
I wish that we could get another visit sometime.
/Teodor Simic
———————————————————————————————————————————–
This was a refreshing experience. It was so pleasant to talk to them and interesting too. They briefly introduced themselves and talked about their jobs and we did the same. It was easy to talk to them because we joked around. We talked about how our school was and our career choices. It was fun and I hope we can meet them again. If I have something to tell them it will be that I sincerely appreciate their time and effort in making this visit a fun and enjoyable experience. Their positive attitude and enthusiasm made it fun, and I am grateful for their contributions. I hope I will make use of the contact card when I visit Hong Kong as an exchange student or another coincidence.
Simon and Gary thank you!!
//Tiemar Okbay
———————————————————————————————————————————
During the introduction with the principal of a girl's school in Hong Kong, she appeared professional and dedicated to her work. She spoke about the importance of creating a safe and supportive learning environment for girls, and the need to promote gender equality in education. She also mentioned the various academic and extracurricular programs offered at her school to help students develop their skills and interests.
During the discussion with the teacher from another school in Hong Kong, he came across as knowledgeable and passionate about his subject area (math).
So we talked a little about math and about the area of math, we have now, probability.
He spoke about the challenges and opportunities of teaching in Hong Kong and shared some innovative teaching strategies he had used in his classroom. He also talked about the importance of building strong relationships with students and creating a positive learning atmosphere. He looked like a very good math teacher and was easy to listen to.
The teacher was from London so it was fun that he could relate to our crazy weather here in Stockholm.
They asked us more questions than we asked them so they got more information about us and the school than we found out about them, but it was fun and interesting to have this discussion.
//Valerie Ghimessy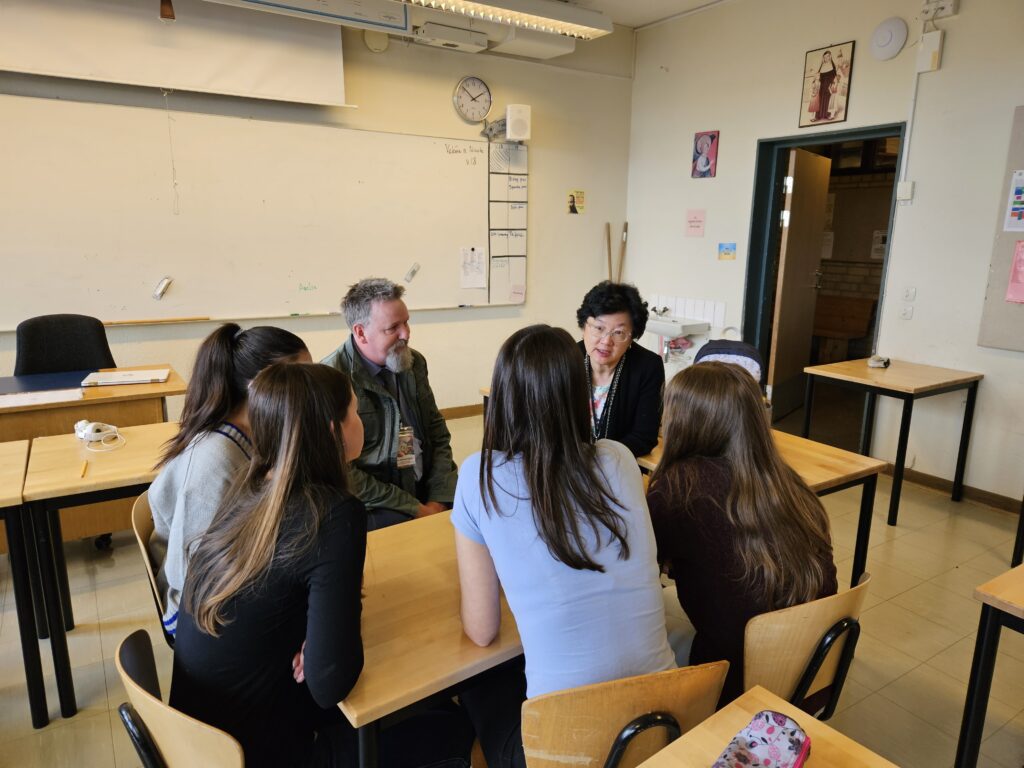 ———————————————————————————————————————————–
I've got to meet the principal of Ying wa college, Mr. Dion Chen. He was very polite and asked many questions such as how many subjects we have. He was very interested in the Swedish school and how it works. He also asked what we wanted to be when we grew up and if we all would choose to go to the "gymnasium" which we said yes. He was very shocked by how good our English was and asked how we got to learn it so well we told him that we learn English from a young age in school and we also learn English in our free time while we watch as example Social media and Youtube. He told us that he encourages his students to go and visit other countries and asked if our teachers do that and we said not so much. He told us an interesting fact that in the future he will try to make some of his students come here to our school and visit like they did to learn about each other.
He was curious about if the teachers always talk Swedish in the classroom or another language maybe, and we answered him by saying that it's mostly Swedish but in modern languages such as Spanish, German, and French they talk that language, and in English class. He also asked us about how it works to choose a "gymnasium" and about our grades and we told him that it often depends on your grades and that some gymnasiums have a minimum of points of grades that can take you in it. He told us that he had been to four other schools in Sweden and said things that they said and asked if we agreed and thought it was the same here. He asked what if some people are lazy in the class and don't wanna study what will the teachers do. We said that they don't just let them sit there and interfere with other students but instead of an example tell them to go out of the classroom, he asked about this because he had heard that Sweden had much freedom.
We didn't just talk about school but instead generally things like someone asked what watch he had in his hand and apparently it was one of the expensive ones, Rolex. We also talked a bit about football when he asked someone what their dream is and they said to be professional football players he asked what team we supported etc, so it seemed that he also had a bit of interest in the sport.
At the end when it was time to say goodbye he asked to take a selfie with us and then shook hands with us and we said goodbye to each other.
//By Yosef Matti
———————————————————————————————————————————–
The people I met were very nice and polite. They had fancy clothing and spoke really good English. Sometimes I couldn't quite understand what they said, because it was really loud around us, but overall it was a nice meeting. They told us how the school in Hong Kong works and asked us about our experience in this school. One of the things they said was that in Hong Kong, the students often wear uniforms and that they only learn 2 languages, Chinese and English, other languages are optional. They were surprised when we told them about our subjects since they only had a couple and most of them were combined, like biology, chemistry, and physics. It was very interesting to listen to them telling us about the system there and I saw a lot of differences.
Today I learned a lot about the Chinese school, what activities are popular, which languages they learn, and a little bit about Chinese culture. For example, students in Hong Kong mostly use computers, rather than books. They mostly asked us questions and we didn't really have time to ask them anything. Now when I think about it I would have asked them more, because what they told us was so interesting. I hope they can come back soon so that we can talk one more time and find out more about Hong Kong and their lives there.
//Zofia Cakala